Prosus to acquire Stack Overflow for $1.8 Billion
Congratulations to Stack Overflow, founders Joel Spolsky and Jeff Atwood, CEO Prashanth Chandrasekar and team on the company's acquisition by Prosus for $1.8bn.
A top 50 website globally, Stack Overflow is the go-to destination for developers to share knowledge and collaborate.
As noted in the 2010 fundraising deck, Stack Overflow was born out of the 'awful state of programmer Q&A on the Internet'. The principles that Joel and Jeff outlined back then remain largely the same today.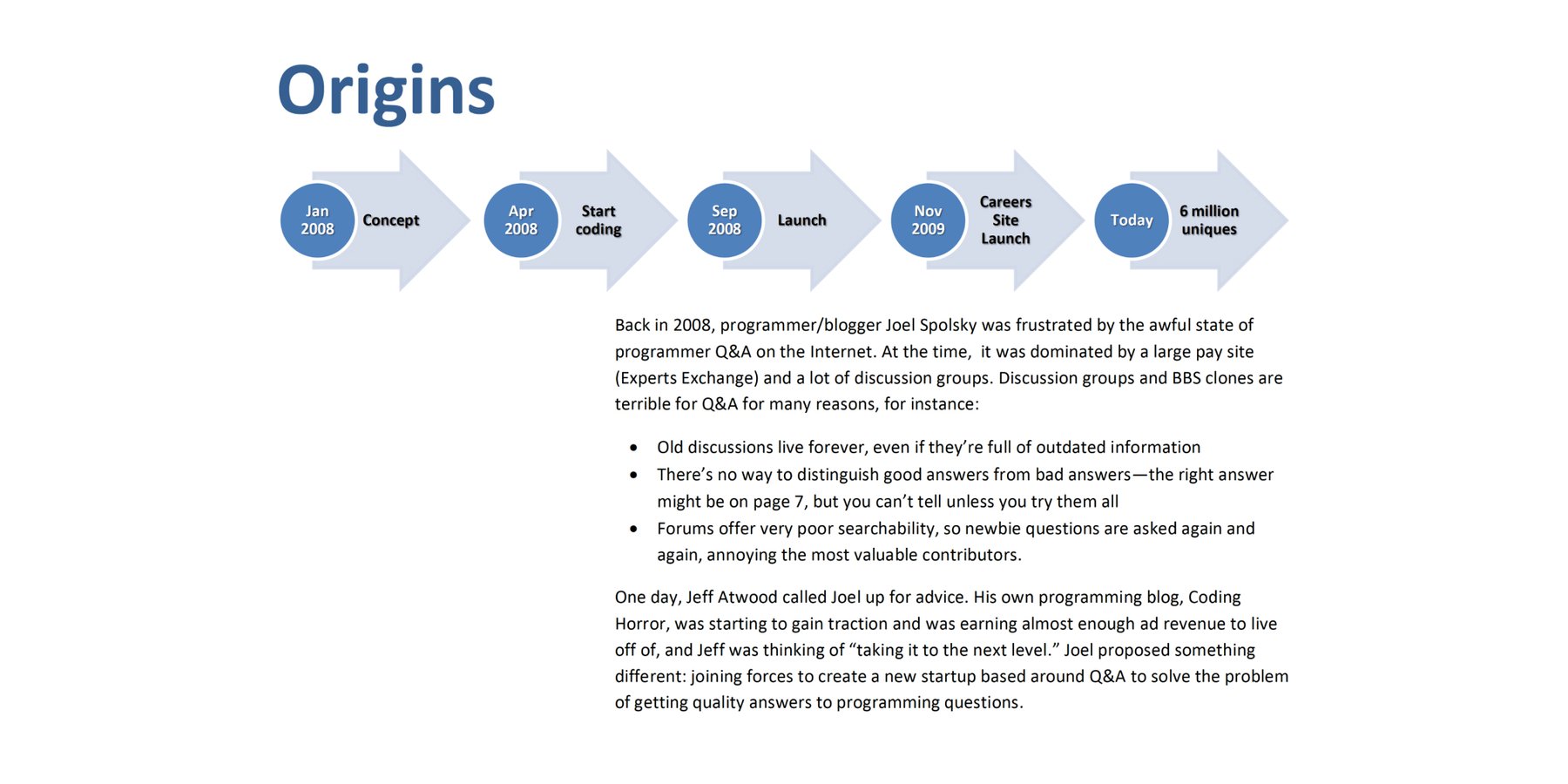 They propelled Stack Overflow to where it is today
👩🏽‍💻 100m monthly visitors
❓ 21m questions asked
🏢 10k companies using its products
🌎 Top 50 site globally
💡 Joined the ranks of companies that are redefining how we work
Index partner Neil Rimer commented: "Stack Overflow is genuinely a thought-leader that has helped redefine the way we share knowledge, collaborate and work. For more than a decade it has provided crucial help to developers and has become an indispensable tool. At any point in time, millions of developers have a browser tab open to Stack Overflow. Prosus, which has demonstrated its commitment to building companies that empower people and build communities, is a fitting partner for Stack Overflow and I believe will be a great steward of the community it has built."
Congratulations from all of us at Index!
PRESS RELEASE
Prosus to acquire Stack Overflow for US$1.8 Billion
Prosus plans to invest and grow Stack Overflow's leading global developer community and SaaS collaboration platform as part of its future of workplace learning focus
AMSTERDAM – 2 June, 2021 – Prosus N.V. ("Prosus"), a global consumer internet group and one of the largest technology investors in the world, announced today that it has entered into a definitive agreement to acquire Stack Overflow, a leading knowledge-sharing platform for the global community of developers and technologists, for approximately US$1.8 billion.
Stack Overflow, one of the 50 most popular websites in the world, has built a global company and highly engaged developer and technologist community over the last 13+ years, now serving more than 100 million people across the world every month. Founded in 2008 as an open community-based question and answer website for the developer community, the company has expanded to include Stack Overflow for Teams, a leading knowledge management and collaboration solution that thousands of the top enterprises around the world trust. Stack Overflow for Teams and their extensive community content have become a necessity to enterprises, having a meaningful impact on their product and technology development.
Stack Overflow has deep engagement within its community and is an invaluable tool for tech-focused collaboration and learning. Over 85% of its learning-focused community visit the platform every week to access more than 52 million questions and answers. There is a new question asked on Stack Overflow every 14 seconds, and developers and technologists visiting the platform have been helped 50+ billion times since its inception.
With expertise in scaling communities in high-growth markets globally, Prosus can help accelerate Stack Overflow's growth ambitions, with a particular focus on reaching a wider international community, while also further scaling the company's Teams product to position Stack Overflow at the center of product and technology development within major enterprises globally.
Prosus has built a significant presence on the enterprise side with a focus on the future of workplace learning. Prosus will reach 90% of the Fortune 100 across its corporate learning companies including Stack Overflow, Skillsoft, Udemy and Codecademy.
Larry Illg, CEO of EdTech at Prosus, said, "We are delighted to be welcoming Stack Overflow to the Prosus family as we increasingly focus on the future of workplace learning. Learning of any kind typically begins with a question and their platform is critically important for global developers when they have questions about their work. There is an opportunity to connect more deeply with their community through our other education platforms to further fulfill their learning needs."
Illg continued, "With enduring skills shortages and ever-evolving needs within technology organizations, technology training has emerged as the largest and fastest growing segment of corporate learning and development. As an operator of businesses across 90+ countries, we understand the needs of technologists and developers, particularly in high-growth markets. In addition to further scaling its community in the markets we know well, we want to help Stack Overflow Teams to expand within enterprises to address an underserved opportunity to transform their technology learning and collaboration."
Stack Overflow's CEO, Prashanth Chandrasekar, said, "We are excited to be joining the Prosus family, which catapults us into a new phase of growth and allows us to expand and accelerate Stack Overflow's impact around the world. Prosus's expertise growing and nurturing communities, especially in a global context, will make our public platform even more invaluable in helping developers and technologists learn and grow. Given Prosus's focus on the future of the workplace, their partnership will allow our market leading SaaS collaboration product, Stack Overflow for Teams, to reach thousands more global enterprises, allowing them to accelerate product innovation and increase productivity by unlocking institutional knowledge."
The transaction is expected to close by Q3 of 2021 and is subject to regulatory approval and customary closing conditions.
About Stack Overflow
Stack Overflow empowers the world to develop technology faster through shared knowledge. More than 100 million people visit Stack Overflow every month making it one of the 50 most-visited websites in the world. Stack Overflow's products include the market-leading SaaS knowledge sharing and collaboration platform, Stack Overflow for Teams, in addition to Stack Overflow Reach & Relevance, which is focused on advertising. Organizations such as Bloomberg, Microsoft, Expensify, Zapier, and more partner with Stack Overflow to help them centralize information, increase efficiency, and build faster. Founded in 2008, Stack Overflow is headquartered in New York.
About Prosus
Prosus is a global consumer internet group and one of the largest technology investors in the world. Operating and investing globally in markets with long-term growth potential, Prosus builds leading consumer internet companies that empower people and enrich communities.
The group is focused on building meaningful businesses in the online classifieds, food delivery, payments and fintech, and education technology sectors in markets including India, Russia, and Brazil. Through its ventures team, Prosus invests in areas including health, logistics, blockchain, and social commerce. Prosus actively seeks new opportunities to partner with exceptional entrepreneurs who are using technology to improve people's everyday lives.
Every day, millions of people use the products and services of companies that Prosus has invested in, acquired or built, including Avito, API Holdings, Brainly, BUX, BYJU'S, Bykea, Codecademy, DappRadar, DeHaat, dott, ElasticRun, eMAG, Eruditus, Honor, iFood, Klar, LazyPay, letgo, Meesho, Movile, Oda, OLX, PayU, Quick Ride, Red Dot Payment, Remitly, Republic, Shipper, SimilarWeb, Skillsoft, SoloLearn, Swiggy, Udemy and Wolt.
Today, Prosus companies and associates help improve the lives of around a quarter of the world's population.
Prosus has a primary listing on Euronext Amsterdam (AEX:PRX) and secondary listings on the Johannesburg Stock Exchange (XJSE:PRX) and a2X Markets (PRX.AJ). Prosus is majority-owned by Naspers.